How much will your website cost?
The requirements for a commercial website are unique to each business. This is why we can only provide you with a "Starting Price" below. The following are some of the factors that impact the cost of your website:
Specific features you want the website to have
Specific functionality you want your website to perform
Content: text and images 
Your website legals. To comply with Australian consumer law, your website needs to include legal information. We're affiliated to a law firm that assists our clients in all aspects of online compliance.
We don't expect you to know all of the above. We spend time getting to know you and your business to find out the best approach to meet your specific needs and wants within a realistic budget.
Beautifully Branded Websites - Mobile Responsive
We build websites using premium products, branding the design to complement the visual identity of your business.
Our starting price includes our time liaising with you, understanding your business marketing goals and vision.
You have complete control over your website to make changes if you wish to do so. Or, we can manage your website for you.
FROM
1 "com.au" domain name: registration valid for 2 years. Or, free transfer to our system so we can manage everything for you.

Our starting price includes up to 12 pages.
Your new website can have as many pages as you need.

Text, photos and videos provided by you or us (extra).

1x enquiry contact form set up. Up to 5 fields included in the starting price.

Social Media sharing software: for visitors to easily share your web pages across their networks.

Google and Bing website verification, sitemap submission.

Website optimised for speed.

Set up or update Google My Business (if applicable).

Installation of Google Analytics.

Website Legal notices to comply with Australian law: Privacy, Disclaimer and Terms and Conditions. To be provided by you or you can purchase standard Legals via our affiliate service here.

Website Info Sheet: logins and information regarding your new website and licenses.
Website hosting, security, back-ups, premium software licenses and more!
After your website goes live, we will keep your website up to date with our pro-active approach.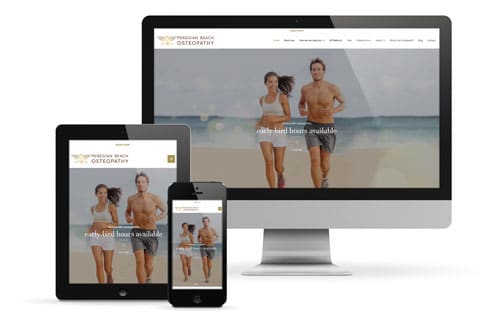 Taty Hindes at Soul Space Design is the MOST AMAZING branding and web designer. Her combination of creative, technical and ability to interpret what her clients are saying are truly above and beyond anything I experienced in my efforts with other designers. Taty's work is for people who want a unique quality and feel for their business. She really listens, she goes above and beyond in getting to the core of what is needed. She draws together the professionals needed, she gets the best from her clients with the right questions. She works MAGIC and I love what she did for my site, and cannot recommend her highly enough. Choose Taty.
Dip H Sc. B.App.Sc. M.Ost – Osteopath
Soul Space Design Services
Cost effective approach to your small business website
We design using premium software and template systems that enhance WordPress capabilities. All our websites are mobile and tablet-friendly.